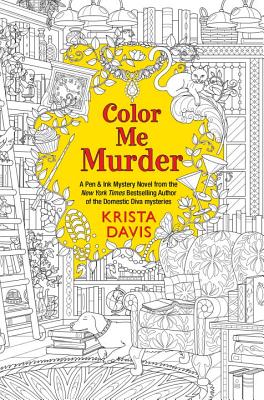 Color Me Murder (Pen & Ink #1)
Publication Date:
February 27th, 2018
Usually Ships in 1 to 5 Days
Description
Includes A Front and Back Cover for You to Color!
 
By day, Florrie Fox manages Color Me Read bookstore in Georgetown, Washington D.C. By night, she creates her own intricately detailed coloring books for adults, filling the pages with objects that catch her eye. There's plenty of inspiration in her new apartment—a beautiful carriage house belonging to Professor John Maxwell, Florrie's boss. He offers the property to Florrie rent-free with one condition—she must move in immediately to prevent his covetous sister and nephew from trying to claim it.
 
When the professor's nephew, Delbert, arrives, he proves just as sketchy as Florrie feared. But the following morning, Delbert has vanished. It's not until she visits the third floor of the store that Florrie makes a tragic discovery—there's a trap door in the landing, and a dead Delbert inside. The esteemed Professor Maxwell is an obvious suspect, but Florrie is certain this case isn't so black and white. Doodling clues, she begins to consider other colorful characters on the scene, all with a motive for murder. With a killer drawing closer, Florrie will need to think outside the lines . . . before death makes his mark again.
"Clearly this book was written by a genius." --Buzzfeed
Praise for Color Me Murder (Pen & Ink #1)
Praise for Color Me Murder:

"Clearly this book was written by a genius." --Buzzfeed
"The mystery is pleasantly twisty...[an] appealing cast of characters – whose backstories lend themselves nicely to future plots for this carefully crafted cozy series." - Publishers Weekly  

"The theme was unique and new, the characters were relatable and entertaining, the mystery was unpredictable, and the writing was excellent." –Night Owl Reviews
 
"I love a book that immediately grabs my attention and this new debut series does that. This was a well-written and fast paced whodunit that was delightfully entertaining. The author did a good job in presenting a murder mystery that had me immersed in all that was happening." –Dru's Book Musings
Praise for Krista Davis's previous mysteries:
 
"Loaded with atmosphere and charm."—Library Journal  
 
"Reader alert: Tasty descriptions may spark intense cupcake cravings."—The Washington Post
 
"Touches all the bases of the cozy mystery—including a bit of romance—and does so with style."—Richmond Times-Dispatch
 
"A beautifully written, cleverly crafted mystery sure to please pet-lovers and fair-play-mystery fans, alike." –Smitten By Books
 
"Raucous humor, affectionate characters, and delectable recipes highlight this unpredictable mystery that entertains during any season."—Kings River Life Magazine