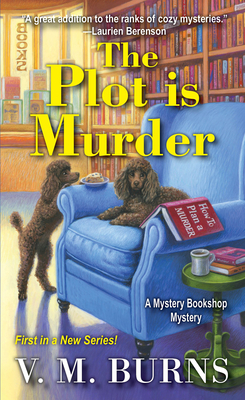 The Plot Is Murder (Mystery Bookshop #1)
Publication Date:
December 29th, 2020
Usually Ships in 1 to 5 Days
Description
The small town of North Harbor on the shores of Lake Michigan is about to have a new mystery bookshop. But before the first customer can browse, the owner becomes a real-life murder suspect...
Samantha Washington has long dreamed of owning a mystery bookstore. And as she prepares for the grand opening, she's realizing another dream--penning a cozy mystery set in England between the wars. While Samantha hires employees and stocks her shelves, her imagination also gets to work as her heroine, Lady Penelope Marsh, long-overshadowed by her beautiful sister Daphne, refuses to lose the besotted Victor Carlston to her sibling's charms. When one of Daphne's suitors is murdered in a maze, Penelope steps in to solve the labyrinthine puzzle and win Victor.
In the meantime, however, the unimaginable happens in real life. A shady realtor turns up dead in Samantha's backyard, and the police suspect her--after all, she might know a thing or two about murder. Aided by her feisty grandmother and an ensemble of enthusiastic retirees, Samantha is determined to close the case before she opens her store. But will she live to conclude her own story when the killer has a revised ending in mind?