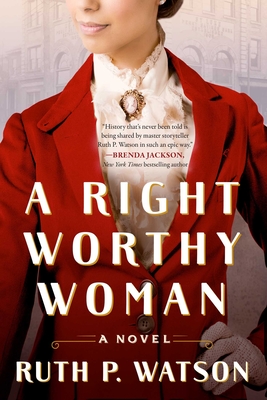 A Right Worthy Woman: A Novel
Publication Date:
June 13th, 2023
Usually Ships in 1 to 5 Days
Staff Reviews
I listen to this book by libro.fm and I was surprised to learn to of Maggie Lena Walker, an African American who transformed black businesses and became the first woman to own a bank in the US.  Parts of the book are fictional, but it gives you an opportunity to look further into her lice and her family. A woman who knew all women should fulfill their dreams, even when faced with critics, racism, etc.  Very happy this author took this subject on, it was an excellent subject to choose and I enjoyed the book.  
— Arrylee
Description
In the vein of The Personal Librarian and The House of Eve, a "remarkable and stirring novel" (Patti Callahan Henry, New York Times bestselling author) based on the inspiring true story of Virginia's Black Wall Street and the indomitable Maggie Lena Walker, the daughter of a formerly enslaved woman who became the first Black woman to establish and preside over a bank in the United States.
Maggie Lena Walker was ambitious and unafraid. Her childhood in 19th-century Virginia helping her mother with her laundry service opened her eyes to the overwhelming discrepancy between the Black residents and her mother's affluent white clients. She vowed to not only secure the same kind of home and finery for herself, but she would also help others in her community achieve the same.
With her single-minded determination, Maggie buckled down and went from schoolteacher to secretary-treasurer of the Independent Order of St. Luke, founder of a newspaper, a bank, and a department store where Black customers were treated with respect. With the help of influential friends like W.E.B. DuBois and Mary McLeod, she revolutionized Richmond in ways that are still felt today. Now, "with rich period detail and emotional impact" (Tracey Enerson Wood, author of The Engineer's Wife), her riveting full story is finally revealed in this stirring and intimate novel.
Praise for A Right Worthy Woman: A Novel
"A Right Worthy Woman is a remarkable and stirring novel, a story destined to be told. Ruth P. Watson brings to vivid life a woman who changed history, a woman both determined and fascinating, a woman named Maggie Lena Walker. From the heartbreaking opening line to the closing scene, the reader is on a transformational journey as Maggie Lena Walker revolutionizes both Richmond, Virginia and women's history. Inspiring and rich with detail, this is your next book club read."
— Patti Callahan Henry, New York Times bestselling author of The Secret Book of Flora Lea
"A stirring fictional account of a remarkable figure...Watson's love of Maggie shines through."—Kirkus
"Illuminating...This appealing portrait would be perfect for a high school classroom."—Publishers Weekly
"This fascinating historic novel reimagines the life of Maggie Lena Walker, a real person who went on to become the first Black woman to establish and preside over a bank in the United States. Not one to rest on her laurels, she also founded a newspaper and a department store."—New York Post
"This rich, captivating saga takes readers to 19th-century Virginia."—Women's World
"A luminous work of historical fiction chronicling the trailblazer's life."—The Atlanta Journal-Constitution
"History that's never been told is being shared by master storyteller Ruth Watson in such an epic way."
— Brenda Jackson, New York Times bestselling author
"It is my distinct honor and pleasure to support this inspiring novel based on the life and times of Maggie Lena Walker, who was one of Zeta Phi Beta Sorority esteemed honorary members, inducted into our beloved organization in 1926."
— Dr. Valerie Hollingsworth Baker, 25th International Centennial President of Zeta Phi Beta Sorority Inc
"A character this richly complex and relentlessly determined deserves a place in the pantheon of great American entrepreneurs . . . Although our complicated racial history runs through this story, the author's skill as a novelist makes Walker's journey as enjoyable as it is inspiriting."
— Pearl Cleage, award-winning playwright and bestselling author of What Looks Like Crazy on an Ordinary Day
"In A Right Worthy Woman, Watson lovingly crafts a jewel of a story to bring life back to Maggie Lena Walker—a genius Black financial wizard of Jim Crow–era Virginia. Readers will prize her amazing legacy as a welcome and crucial addition to the growing collection of historical fiction about unsung Black women's lives."
— Piper Huguley, author of By Her Own Design
"Watson has given us an extraordinary journey of a determined woman who, against the odds, reminds her community what can be accomplished when united around a common vision."
— Kaia Alderson, author of Sisters in Arms
"Maggie's story is one that needs to be told, not only to understand the past, but to inspire the present. Author Ruth P. Watson rivets the reader with rich period detail and emotional impact. A Right Worthy Woman is a literary journey to the deep and dark recesses of our history, one that we all would be better for taking."
— Tracey Enerson Wood, author of The Engineer's Wife
"Watson masterfully connects the reader to Maggie Lena Walker's world in an impactful manner and gives voice to Walker's innermost feelings and frustrations as she traversed the hazardous journey of being a Black woman, wife, mother, advocate, and entrepreneur in the Jim Crow South. This nineteenth century voice needs to be heard today in the twenty-first century!"
— Dr. Cassandra Stroud Conover, former District Attorney of Petersburg, Virginia
"The story of Maggie Lena Walker as masterfully told by Ruth Watson is about daring to dream the unimaginable and achieving it. It is set in a different time, yet its fundamental theme – that understanding the socio-economic and financial drivers of our time is essential for building resilient families and economically viable communities- remains as relevant today as it was in her time. Maggie Lena Walker's story is of global significance as a mirror of the experiences of the African diaspora."
— Dr. Renosi Mokate, Executive Chairman at Concentric Alliance